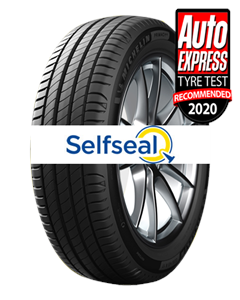 MICHELIN Primacy 4 (Selfseal)
MICHELIN Primacy 4 (Selfseal)
The MICHELIN Primacy 4 tyre is designed for safety made to last while being one of the leading tyres for longevity in its category.
MICHELIN'S latest generation, high safety tyre
Safety made to last with consistent and excellent wet braking performance
One of the leading tyres for longevity in its category.
Greater fuel efficiency and 20% more mileage than previous generation
MICHELIN's premium summer tyre for everyday performance, commuting or long family journeys
Features and Benefits
Excellent wet braking performance made to last
MICHELIN EverGrip Technologies feature the latest generation high performance rubber compound providing excellent wet braking performance. A safety orientated, optimized sculptured tread gives 22% more space to evacuate water in wet conditions, even when worn. Drive with confidence throughout the life of the tyre, safe in the knowledge that you and your passengers are protected even in heavy rainfalls.
Long-lasting treadlife
MICHELIN Primacy 4 is designed for excellent longevity without sacrificing performance. Max Touch Construction maximizes contact with the road, distributing forces of acceleration, braking and cornering evenly. Enjoy 20% more mileage than the MICHELIN Primacy 3 tyre, and identify when your tyre needs changing with the help of MICHELIN's innovative treadwear indicator.
Selfseal
MICHELIN® Selfseal Technology is optimised for the objects most likely to leave you stranded roadside (like nails and screws) by sealing most punctures up to ¼" (6mm). It remains an environmentally friendly option by utilizing a natural rubber sealant material that has no impact on rolling resistance and maintains all other tyre performances.
How our customers


rate these Tyres
There have been no reviews yet for this product. To review this product, click the "Leave a Review" button.