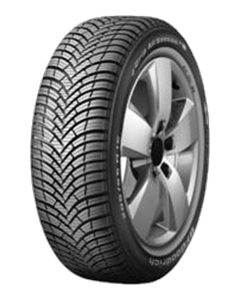 B.F. GOODRICH g-Grip All Season 2
B.F. GOODRICH g-Grip All Season 2
ONE OF THE BEST RATING FOR WET BRAKING
With a B rating for braking on wet road, the BFGoodrich g-Grip All Season 2 tyre holds one of the top labelling levels in its market category. Its V-shaped directional tread pattern and its toboggans facilitate water evacuation which reduces aquaplaning risk.
EVEN MORE GRIP ON DRY ROADS
Braking distance on dry roads is reduced by 3,5 m compared to the first generation thanks to hinges that widdens contact area between the tyre and the road.
CERTIFIED FOR WINTER
The BFGoodrich® g-Grip All Season 2 holds 3 PMSF* and M+S** markings that guarantee good starting and braking on snowy roads.
How our customers


rate these Tyres
There have been no reviews yet for this product. To review this product, click the "Leave a Review" button.