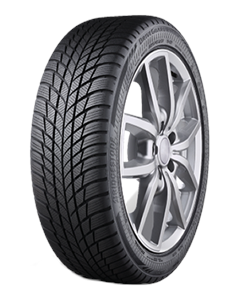 BRIDGESTONE Driveguard Winter
BRIDGESTONE Driveguard Winter
**This tyre requires TPMS**
REINFORCED SIDEWALLS
Supportive and tough reinforced sidewalls help ensure your mobility and support the entire weight of your car.
TEMPERATURE CONTROLLING COOLING FINS
Thanks to our proprietary patented high-tech cooling fin design, Bridgestone DriveGuard tyres redistribute heat and friction after a puncture, so you can keep driving for 50 miles even after a complete loss of air pressure.
INNOVATIVE SLANTED GROOVES DESIGN
Capture snow better than square grooves. For outstanding snow traction, incredible stability and dynamic handling.
ROUNDED CORNER JUNCTIONS AND TAPERED HORN LUGS
For excellent hydroplaning. Grooves get wider from inside to shoulder area to efficiently remove water and slush and increase street contact.
HIGH SILICA CONTENT COMPOUND WITH NANO PRO-TECH TECHNOLOGY
For short stopping distance.
NEW CROWN STRUCTURE DESIGN
For improved stiffness. Comfort comparable with standard tyres.
How our customers


rate these Tyres
There have been no reviews yet for this product. To review this product, click the "Leave a Review" button.