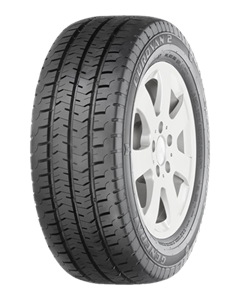 GENERAL Eurovan 2
The new General Tyre van summer tyre Eurovan 2.
Developed for the highest demands of transporters and vans, by means of its highly developed tread the Eurovan 2 achieves high mileage and powerful traction. The new tread structure enhances brake performance and handling on dry roads and in curves. The Eurovan 2 is characterised by excellent aquaplaning qualities. Staggered opposing tread grooves in the shoulder reduce noise and heighten ride comfort. The flat tyre contour ensures even wear and lengthens the tyre's life
How our customers


rate these Tyres
There have been no reviews yet for this product. To review this product, click the "Leave a Review" button.