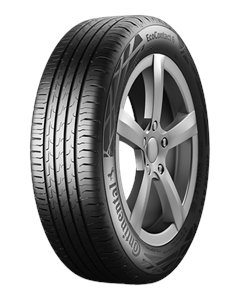 CONTINENTAL EcoContact 6
Fuel efficient performance for your vehicle.
We bring German technology to your car.
Enhanced mileage due to Green Chili™ 2.0 compound
Maximum fuel efficiency
Optimised grip and handling experience
Maximum fuel efficiency
The EcoContact™ 6 is 15% more fuel efficient than its predecessor thanks to its unique compound technology. The EcoContact™ 6 compound includes an optimised polymer network which allows the tyre to react to varying road conditions, which ultimately improves the tyre's rolling resistance and fuel consumption.
Green Chili™ 2.0 for enhanced mileage
The advanced Green Chili™ 2.0 compound reduces both the deformation and heat build-up of the tyre. This results in lower fuel consumption and a reduction in the CO2 emissions. It also reduces the rubber loss throughout its life cycle ensuring mileage is increased.
Optimised grip and handling experience
The EcoContact™ 6 variable groove pattern structure enables great wet and dry performance regardless of tyre size. Thanks to its innovative asymmetric rib and sipe geometry, the tyre always keeps the contact with the road, delivering safe a reliable grip when it counts.
How our customers


rate these Tyres
There have been no reviews yet for this product. To review this product, click the "Leave a Review" button.