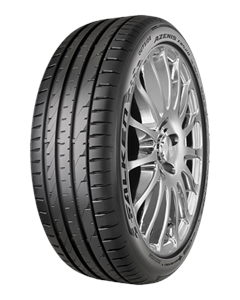 FALKEN Azenis FK520
Ultra-precise handling with exceptional stability and control at all speeds
Technology transfer from motorsports by adapting design components from AZENIS race tyres
Added safety provided by significantly shorter braking distances in wet and dry conditions
Enhanced damping comfort and further reduced noise level
Up to 10% reduced tyre weight
Optimised rolling resistance for better economy
Aerodynamic sidewall design with new Nano-Black lettering for a "state of the art" appearance
ARAMID LAYER REINFORCEMENT
PRODUCT FEATURE:
A new reinforced layer consisting of Aramid material
FUNCTION:
Components adopted from our successful AZENIS race tyres for ultra-precise handling. Technology transfer from racetrack to road
BENEFIT:
Stiff and lightweight Aramid reinforcing material improves cornering and high-speed stability
DIAMOND-CUT EDGES AND SILENCING DIMPLES
PRODUCT FEATURE:
Diamond-cut edges with silencing dimple adapted in all lateral shoulder grooves
FUNCTION:
Angled edges to improve ground contact; silencing dimples create micro-turbulences to minimise pattern noise
BENEFIT:
Superb cornering abilities and exceptionally good dry braking. Further reduced noise level
LIGHTWEIGHT CONSTRUCTION
PRODUCT FEATURE:
New lightweight construction
FUNCTION:
Optimised shape and design provides up to 10% weight reduction compared to predecessor
BENEFIT:
Lightweight tyre to conserve resources, reduce undamped mass and improve rolling resistance
How our customers


rate these Tyres
There have been no reviews yet for this product. To review this product, click the "Leave a Review" button.